The Secret to Writing will help you win. Pre-order Your Copy Now!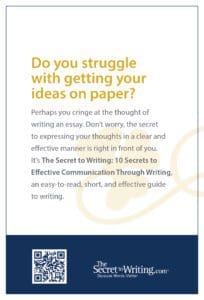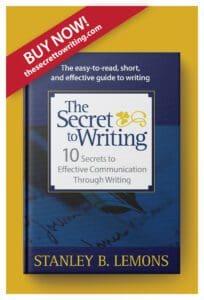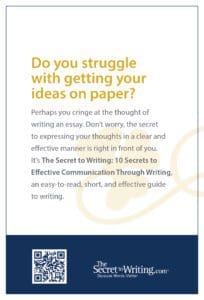 Book Release March 14, 2023
Pre-orders are happening now! When you pre-order the book, you'll receive a personally signed copy by Stanley B. Lemons. Your book(s) will be mailed at the time of the book release on March 14, 2023. 
In this, his third book, Stan Lemons provides a superbly-usable how-to guide for good writing.  This book provides page after page of practical advice regarding how to improve your writing skills, whether you're a student, a college- or job-applicant, or a mid-career professional.  Stan's easy-to-use framework -- Process, Grammar, Practice -- offers a clear and straightforward pathway to excellent writing. Regardless of your starting point, this book will help you think and write more clearly and powerfully as you advance along your life-journey.
John I. Williams, Jr., MBA, JD
Former President, Muhlenberg College
Life Trustee, Amherst College
Trustee, Kent School (Kent, CT)
Former Trustee, Prep-for-Prep (NY City)
The Secret to Writing: 10 Secrets to Effective Communication Through Writing is an excellent resource for anyone desiring to improve their writing. It is easy to read and serves as a user-friendly practical guide that will produce desired results for its readers. The 10-step process outlined in the book is one that will produce results when used consistently!
I recommend it to anyone wanting to write better!
Fernando Nasmyth, Esq.
Real Estate Executive
Member, Board of Trustees of Private K-12 institution
The Secret to Writing: 10 Secrets to Effective Communication Through Writing is a book that everyone should have in their library. Whether it is read in it's entirety or used as a reference book, The Secret to Writing will be helpful in pursuing all of your writing challenges - be it an essay, thesis, or opus.
The rigor of using the ten steps outlined in the book will provide a path for the reader to use. These steps are tried, trusted, and true - proven to make your writing project the best possible!
After reading this book, you will never be intimidated, distracted, or paralyzed from tackling any writing assignments that are presented to you. I highly recommend The Secret to Writing!
Wendell A.M. Bryant, M.B.A., SHRM-SCP
Human Resources Leader and Morehouse College Alum
City of Atlanta
The Secret to Writing is a great resource for anyone who needs help improving their communication skills, written or verbal. I highly recommend this book!
Trice Hickman
Best Selling Author
Want a preview of the book?
March
• Book Signing, March 22, 2023: Texas Southern University, Book Store, Sterling Student Life Center, 12:00-2:00 p.m., Houston, TX
• Event #2, name, address, date, time
• Event #3, name, address, date, time

April
• Event #1, name, address, date, time
• Event #2, name, address, date, time
• Event #3, name, address, date, time

May
• Event #1, name, address, date, time
• Event #2, name, address, date, time
• Event #3, name, address, date, time

June
• Event #1, name, address, date, time
• Event #2, name, address, date, time
• Event #3, name, address, date, time

About The Secret to Writing Man®