Community Organizations
Corporations
Education Institutions
Faith-based Entities
Government Agencies
Education
Texas Southern University, Ed.D. (candidate), Houston, TX
UCLA Anderson Graduate School of Management, M.B.A., Los Angeles, CA
Amherst College, B.A, Amherst, MA
Georgetown University, Visiting Student, Washington D.C.
UCLA College Counseling Certificate Program 2021-2023
Harvard Business School, Executive Education Program
Northwestern University, Executive Education Program
Greenhill School, Dallas, TX
Experience
Author
Instructor
College Counselor
Scholarship Reviewer, UCLA Alumni Scholarships for Incoming Freshman
Coro Foundation Public Affairs Fellow
Returned Peace Corps Volunteer
INROADS Dallas/Ft. Worth Alum
Federal Government Grant Reviewer
Global Marketing Strategist: The Coca-Cola Company, Citigroup, S.B. Lemons & Company
Certifications
Project Management Professional (PMP)
The Value of Education

Writing Skills

College Admissions

Study Strategies for Middle School and High School Students

Study Strategies for College Students
Back-to-school events

Black history month celebrations

Chamber of commerce meetings

Church and other faith-based assemblies

Coaching and mentoring engagements

College athlete academic support programs

College orientations for first-year students

Company sponsored forums

Corporate employee benefit sessions

Education panel discussions

Eighth grade to high school transition assemblies

Federal TRIO programs

Government training programs

International conferences and education fairs

Lunch and learns

Moderating events, meetings, and conferences

Parent and community meetings

Principal coffee chats

Professional development workshops for teachers

PTSA meetings

Student meetings

Summer academic enrichment camps

Youth conferences
Sample Speaking and Workshop Topics
Mr. Lemons captivates and motivates audiences of all ages and backgrounds by chronicling his life journey through a series of both personal and thought-provoking photographs. From growing up in an all-Black neighborhood in Dallas, Texas, securing a scholarship to attend a predominately White K-12 prep school, matriculating to Amherst College and UCLA, to then working with a public elementary school in West Africa and later enrolling in an education doctoral program at a southern HBCU, Mr. Lemons' life story embodies the very essence of perseverance, tenacity, and grit. By the end of his "A Snapshot of My Life" talk and photographic journal, audience members are left with feelings of excitement, joy, empathy, and inspiration; yet, simultaneously, they're filled with strategies and insights for academic, career, and life success. The power of Mr. Lemons' "A Snapshot of My Life" is anchored on his life journey, but unquestionably, it is the dynamic way Mr. Lemons engages the audience that makes this speaker and his presentation a one of a kind. "A Snapshot of My Life," by and from Mr. Stanley B. Lemons, is an American story that should not be missed. Book Mr. Lemons today!
Good writing informs, persuades, and inspires. It can make you laugh out loud, and it can challenge your heart and mind. Good writing also takes training and practice to develop. That's where Mr. Lemons and his secret to writing come in. In Mr. Lemons' workshops for students, teachers, government staff, and corporate employees, he equips participants with the skills to communicate more clearly and effectively through writing. Participants learn the essentials of effective writing, including everything from formulating a thesis to writing clear sentences. Plus, participants explore Mr. Lemons' hallmark, 10-step writing process.
EXPANDING COLLEGE OPPORTUNITY: A ROADMAP TO COLLEGE FOR PARENTS AND STUDENTS
Mr. Lemons talks with middle school and high school families about the ins and outs of the college admissions and financial aid process.
TOPICS INCLUDE:
Why higher education is important
How to be successful in school
What colleges look for in applicants
How to write winning college admissions and scholarship essays
How to pay for college
How to get scholarship money for college
How to ensure that you not only get into college but also graduate from college
Mr. Lemons masterfully engages and connects with his audience. He is personable, down-to-earth, and not afraid to share his inspiring personal story as a first-generation college graduate.
This presentation is based on Mr. Lemons' Expanding College Opportunity® book and student workbook. Organizations and participants are invited to purchase copies of Mr. Lemons' books and the College On My Mind® t-shirts prior to the presentation.
Mr. Lemons not only motivates his audience, but he also provides practical, easily implementable tools to be successful in school. Mr. Lemons outlines time-tested strategies that students can utilize in order to earn good grades, and ultimately to position themselves for increased post-secondary school options, be-it at a community college, four-year college or university, trade school, or technical school.
The transition from high school to college is not always easy. In fact, today's 59% four-year college graduation rate speaks to the need for more student support, especially when it comes to managing college classes and being successful in a college environment. Mr. Lemons provides real-world, practical support and training to incoming first-year college students and current college students.
TOPICS COVERED:
Goal setting

Meeting and exceeding professor expectations

Organization skills

Time management

Note-taking

Forming effective study groups

Maintaining balance as a student and as a person
By the end of Mr. Lemons' workshop, students walk away with action steps that they can immediately implement. Want to increase your school's retention and graduation rate? Book Mr. Stanley B. Lemons Lemons TODAY!
Pitch deck coaching
Effective Business Communication: The Nuts & Bolts
Winning marketing strategy
10 Unshakable Principles for College and Career Success
"Stan Lemons came to our district and engaged students, staff and parents alike in presentations both during the school day and in the evening. Stan engages his audience with personal stories and practical need-to-know information about demystifying and navigating the sometimes overwhelming journey into researching colleges. Students were sincere in approaching and thanking Stan after presentations; parents were appreciative of his clear and practical advice; and staff members asked me after his visit if he could come back so that all of our students could hear his message. In this age of encouraging the "go on" rate to degrees and certificates after high school, Stan's message is timely, relevant and on-point to a wide array of audiences."
Matthew Handelman, Superintendent, Coeur d'Alene Public Schools, Coeur d'Alene, ID
"Stan's (college admissions and financial aid processes) presentation is not only engaging but vey informative. His book is an excellent resource for parents and students interested in pursuing post secondary options. It is well organized and easy to understand."
Cary Kennedy, Brookwood High School Counseling Office, Snellville, GA
"I just wanted to let you know how much we appreciated your time and talents shared with the ATC community last week. The students were able to experience just a small segment of what you have to offer through the How to Study sessions and I hope they pursue you for even more helpful and knowledgeable resources and proven solutions. Thank you and I look forward to working with you again soon!"
Tosha L. Bussey, Director of Library Services, Atlanta Technical College, Atlanta, GA
"Stan shoots straight to the heart of how to choose and get accepted to the right school for you. He is personal. He is real. He speaks from experience and gets it right!"
Leslee Evans, PTSA Member, North Atlanta High School, Atlanta, GA
"Thank you for coming to Canfield Middle School. My students enjoyed your presentation. It is good for them to hear from other sources about the value of education. The kids gained quality information, especially as they prepare for high school registration this week. Thank you for my copy of your book. I've read it and it is spot on for prep regarding college and post-secondary training."
Kathie Wilson, Educational Specialist, Canfield Middle School, Coeur d'Alene, ID
"Stan Lemons came and spoke to my high school students and the impact he made on them was tremendous. He was able to relate well to our students and actively keep them engaged, making them eager and excited about their next steps after high school. Mr. Lemons challenged the students to "expand their college opportunities."
Cinzia Thomas, Summer Institute Site Coordinator, Emory University, Atlanta, GA
"Excellent training for parents and students. Parental involvement is definitely crucial and this training helped parents at Zan Wesley Holmes Jr. Middle School to understand more in depth the importance of college and the steps to follow. Fantastic presentation, Mr. Lemons!!"
Irasema N. Sias, Campus Support Team- Title III, Office of Family and Community Engagement, Dallas Independent School District, Dallas, TX
"Hi, My name is Luke and I am a freshman at Coeur d'Alene High School. I just wanted to say thanks for taking the time to speak to us today! You really got me thinking about my future more than ever. Once again thank you!"
Luke, High School Freshman, Coeur d'Alene High School, Coeur d'Alene, ID
"Mr. Lemons' presentation to our Suitland High School (Suitland, MD) Parent Teacher Student Association was a timely wake up call regarding the importance of investing in our children's education. His book 'Expanding College Opportunity' clearly and easily conveys information and tools that parents, teachers and students themselves can use in navigating the college admissions and financial aid processes. The strategies detailed in the book was brought to life by Mr. Lemons passion and enthusiasm for helping our young people reach their full potential as both students and future leaders. The SHS PTSA is pleased to have purchased several copies of these wonderful books which are sure to be an invaluable resource for our students for years to come."
Barbara Eubanks, Retired U.S. Navy Executive Officer and PTSA Treasurer, Suitland, MD
"Thank you Stan for illuminating the opportunities and challenges for students interested in pushing the limit in higher education to better themselves. With one son in college and another on the way, I have seen the complexity firsthand and your succinct and energetic discussion opened my eyes on a few different avenues. Preparation is the key to success and your materials, vision and, most importantly, your emphasis on middle school preparation will certainly provide dividends to those interested in having options in higher ed…thank you sir for caring for kids and caring for education!"
Brian Newberry, Executive Director, Leadership Spokane, Spokane, WA
"The information Mr. Lemons presented to our students and parents is vital to the college application process. He was engaging and connected with our students. His knowledge and experience was beneficial to all that attended."
Lara Salzman, Professional School Counselor, Barber Middle School, Acworth, GA
"I have been a high school counselor for the past 27 years, and I had the chance to read a remarkable book by Stanley Lemons. The focus of Expanding College Opportunity is to help students prepare for college. It is written in a way that parents and students can understand. The book pushes students to create short-term and long-term plans to ultimately get them to college.
Stanley was recently invited to come and speak to 9th and 10th grade students at Coeur d'Alene High School. He immediately engaged with the students and told a passionate story about growing up with limited financial resources yet meeting the challenges required to attend Amherst College. Our students greatly benefitted from listening to Stanley's story and being able to ask him personal questions. Stanley is very open and honest with young people. He easily connects with them and offers valuable insight about how to manage the process to be accepted to college.
Stanley is welcome back to Coeur d'Alene High School any time. His expertise on how to prepare for college is extremely valuable to our students. Take the time to read Stanley's book, Expanding College Opportunity, it will help your students prepare and successfully enter college."
Dan Higbie, Guidance Counselor, Coeur d'Alene High School, Coeur d'Alene, ID
"My students and I are most appreciative of the information provided by Mr. Lemons. His expertise in the areas of college and career readiness and securing financial backing for the college journey was evident. The students were captivated by his words and inspired to get moving in their post-secondary planning pursuits. We appreciated his words of wisdom and charismatic approach. Thank you Mr. Lemons!"
Cassandra Bolding, Ed.S., Professional School Counselor, D.M. Therrell High School, Atlanta, GA
"Your presentation was a tremendous blessing to all who attended and I cannot say enough about the practicality of the material. Many parents were greatly encouraged about the ease of the college process, especially those who may have started a little late in the journey. Even my son commented about how he enjoyed the workshop and how helpful the presentation was for him. Thank you again for coming."
John Bradshaw, Youth Minister, Greenville Avenue Church of Christ, Richardson, TX 
"We were fortunate to have Mr. Lemons from The Secret to Writing agency do a presentation that focused on how students/parents can expand college opportunities. Through his personal testimony and proven data, Mr. Lemons explained to parents such things as how a college essay can have a powerful impact in the admissions process and how students can optimize their high school years to increase their post secondary school options. Given our cluster theme of advanced curriculum and college readiness, we welcome more events Mr. Lemons may have to offer."
Lamar J. Young, Ed.S, Professional School Counselor, Henry W. Grady High School, Atlanta, GA
"Stan Lemons is a dynamic speaker who will engage any type of audience, young and old. In his well researched workshops and seminars on Expanding College Opportunity, Mr. Stan will not only provide helpful information to the students but will also help parents in how to prepare. Mr. Stan has also authored a book Expanding College Opportunity, which is a guide map to students and their parents on steps to take as they prepare for college. In today's economy, the cost of higher education will continue to rise. Students and families must take a different approach in realizing the college goal. Expanding College Opportunity is a great vehicle to help you get there."
Pastor Simon Nderi, Director of Youth Programs, Kenyan American Community Church, Marietta, GA
"Mr. Lemons did an outstanding job presenting to our 6th, 7th and 8th grade parents during a lunch and learn session. His wealth of knowledge was both personal as well as research based. His presentation was also interactive which gave parents an opportunity to ask questions as well as share parenting experiences. Mr. Lemons received excellent ratings from the parents in the evaluation after the presentation. I will certainly invite him again to our school. He provided much needed information to our parents that was found to be invaluable. Thank you, Stan."
Dr. Vanita Moon, School Counselor, Snellville Middle School, Snellville, GA
"Stan provided an absolutely informative, comprehensive presentation to our parents and students regarding the path to college. He offered his own experiences and made the topic relatable and inviting for everyone to ask questions. I enthusiastically recommend all parents, students, and schools offer the Expanding College Opportunity presentation, the information is extremely valuable!"
Kimberly Chinn, LMSW, Site Coordinator, Communities in Schools of Marietta/Cobb County, Pebblebrook High School, Mableton, GA
"We cannot thank Mr. Lemons enough for coming to share his wisdom with our parents. At Camp Creek Middle School we have several students that will be first generation college students. Our parents need to know the steps to get their students to the right place. Mr. Lemons is a wealth of information. He went through his presentation and related everything to his personal experience. He spoke of his son and what his son needed to know. It was reassuring to hear that he has been through the process. Our parents were so at ease, and they were open with their questions and concerns. Mr. Lemons' book and workbook are wonderful resources. As a school we use them to continue to educate our parents. With so much information on college and financial aid we need help and guidance. Mr. Lemons is the ultimate resource. We will continue to reach out to him in the future. Thank you Mr. Lemons!"
Amber Woods, School Counselor, Camp Creek Middle School, College Park, GA
Amherst College
Atlanta Public Library System
Atlanta Public Schools, Georgia
Atlanta Public Schools PTSA
Atlanta Technical College
Cobb County School District, Georgia
Coeur d'Alene School District, Idaho
Communities In Schools
City of Atlanta
Dallas Independent School District, Texas
DeKalb County School District, Georgia
Faustian Academy, Independent School
Fulton County School System, Georgia
Garland Independent School District, Texas
Georgia State University
Greenville Avenue Church of Christ
Gwinnett County Public Schools, Georgia
Houston Community College
Imhotep PTSA
Jack and Jill of America, Northeast Dallas Chapter
Kenyan American Community Church
KippTexas
LEAD
Microsoft
Mt. Hebron Missionary Baptist Church
NAACP
Prince George's County Library System
Project Grad
Rutgers University
Salvation Army
Spokane Public Schools, Washington
St. Louis Public Schools Foundation
St. Louis Public Schools, Georgia
Suitland High School PTSA
The Episcopal School of Dallas
The University of Georgia
Upward Bound
Urban League of Metropolitan St. Louis
YMCA
100 Black Men of Prince George's County
Stan Lemons grew up in an African American, working-class neighborhood in Dallas, Texas. Stan attended the public elementary school in his neighborhood and was a member of the Oak Cliff Boys & Girls Club, where he routinely spent time after school and on the weekends.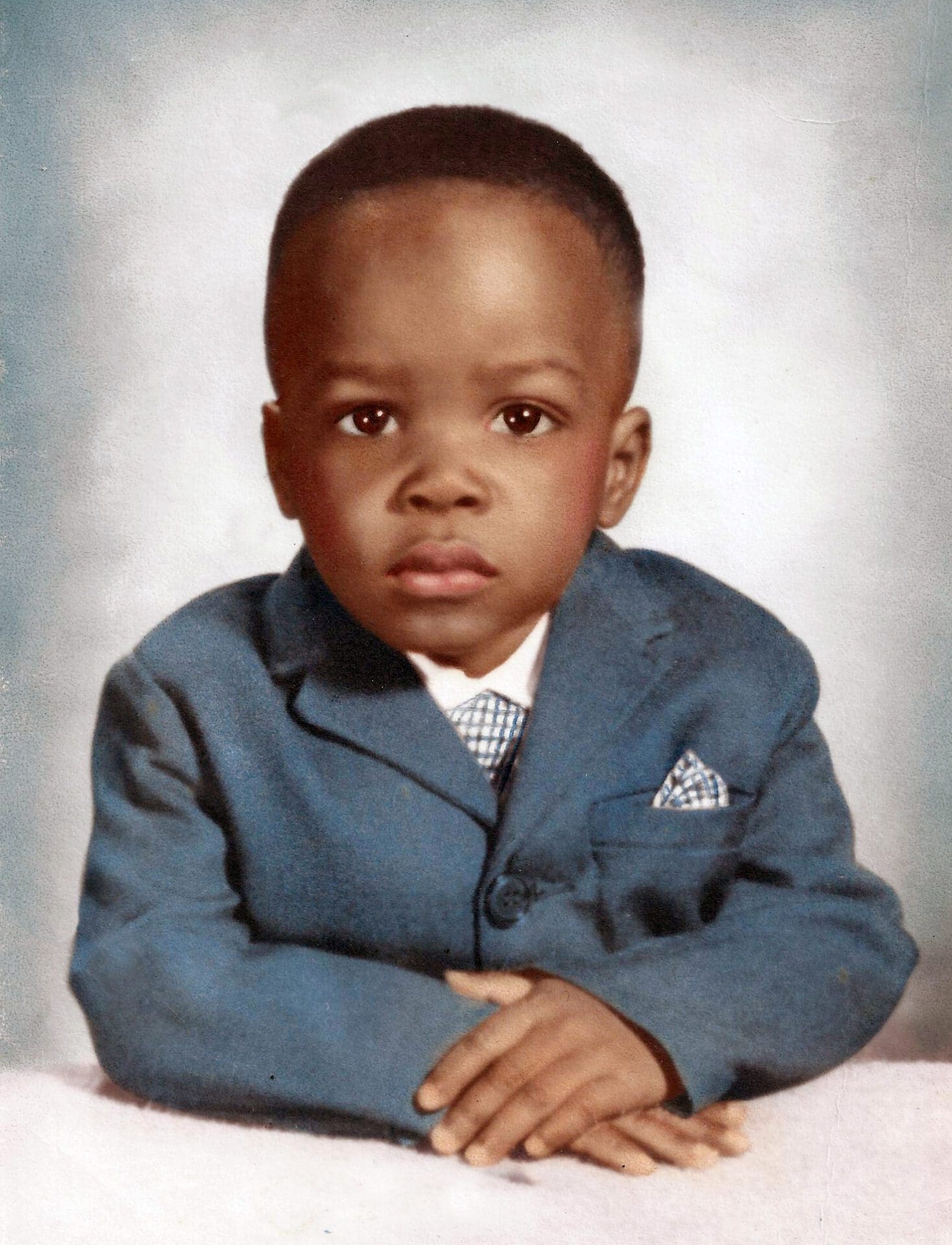 Preschool Student, Dallas, TX
Kindergarten Graduation, Dallas, TX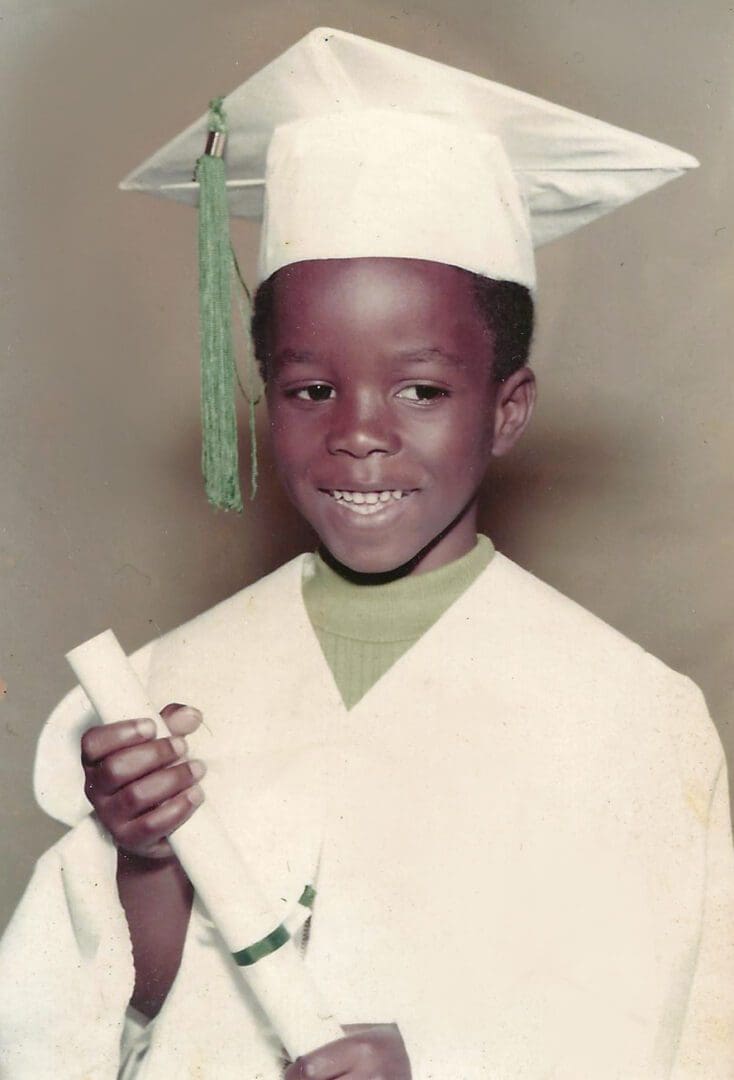 Martha Easley, the librarian at the Boys & Girls Club, identified Stan as a candidate to enroll into Greenhill School, a private K-12 independent school in Dallas. With the benefit of a scholarship through the Boys & Girls Club, Stan matriculated into Greenhill in the sixth grade. His transition to Greenhill was not easy. Stan traveled for over one hour each way to get to and from school. There was also the social and cultural adjustment that came with going to a school in a predominately White, upper-income community, so different from the neighborhood where Stan grew up. That said, Stan succeeded and graduated from Greenhill.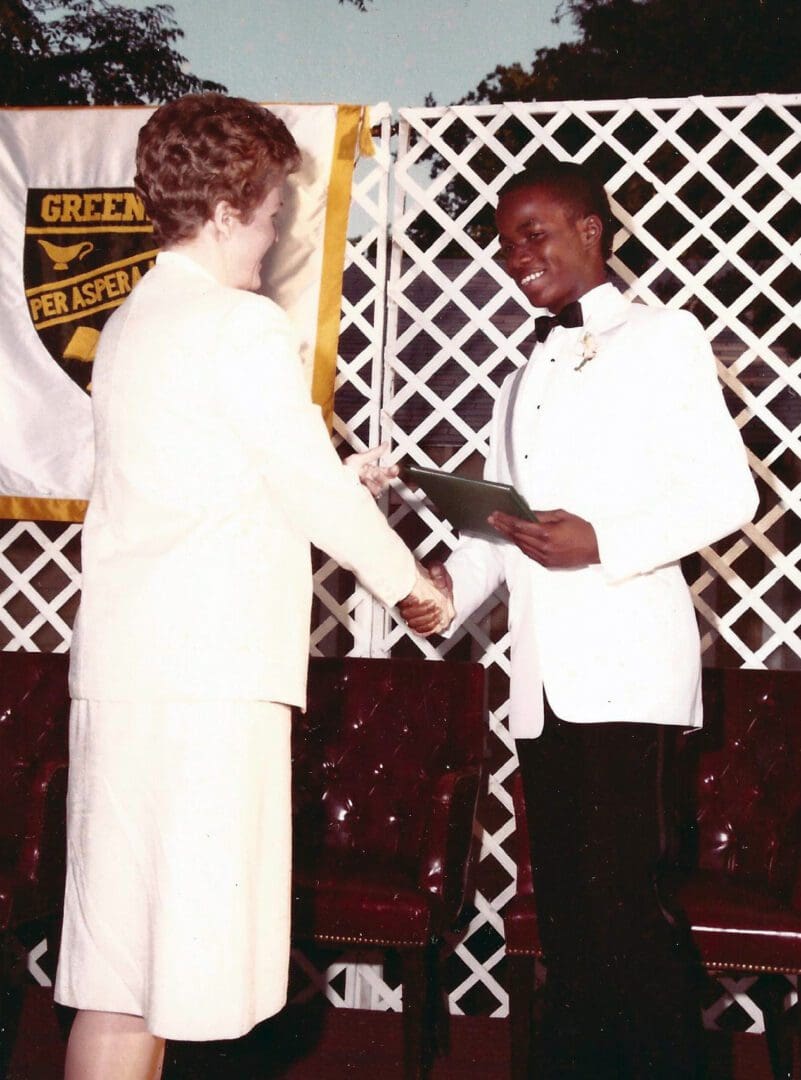 Greenhill School Graduation, Dallas, TX
Stan then moved across the country to attend Amherst College, a small, highly selective private liberal arts college in Amherst, Massachusetts. Attending Amherst was, yet again, a big step for Stan. As neither of his parents attended college, Stan had to navigate a path through an elite New England college environment. By all accounts, Stan was successful at Amherst, both inside and outside the classroom. He co-founded the Black Business Association of Amherst College and was elected Treasurer of Amherst's Student Government. One of Stan's proudest and happiest moments came with graduating from Amherst, as he was the first in his family to earn a college degree.
Amherst College Graduation, Amherst, MA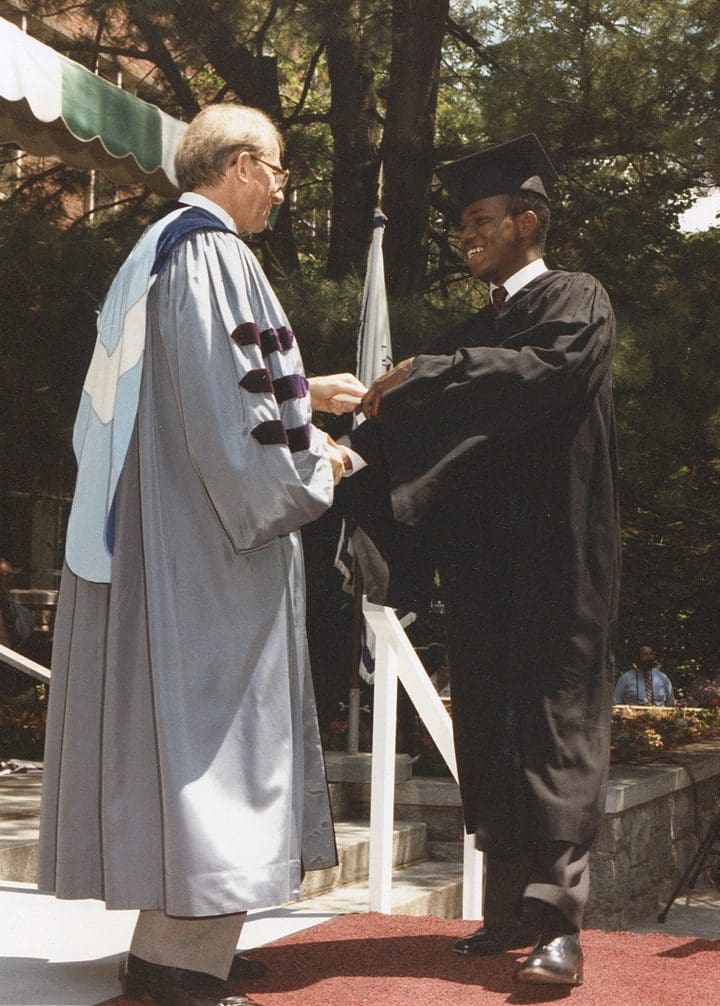 After Amherst, Stan served as a Coro Foundation Public Affairs Fellow in St. Louis, Missouri. As a Coro Fellow, Stan worked in the nonprofit, government, and business sectors. Stan later made, as he, in hindsight, describes as a life-defining decision—to join the Peace Corps.
Stan moved to West Africa with the Peace Corps. He served as a small business volunteer. Additionally, Stan led a renovation project at a local elementary school.
Stan's experience at the elementary school, in particular, left a lasting impression on him: he witnessed the desire and eagerness on the part of so many children — bound by limited opportunity — to get an education. Undoubtedly, Stan gained a greater sense of appreciation for his own educational opportunities. He concluded the elementary school experience with a feeling of wanting to do more.
Peace Corps Volunteer Training Center, Santa Lucía Milpas Altas, Guatemala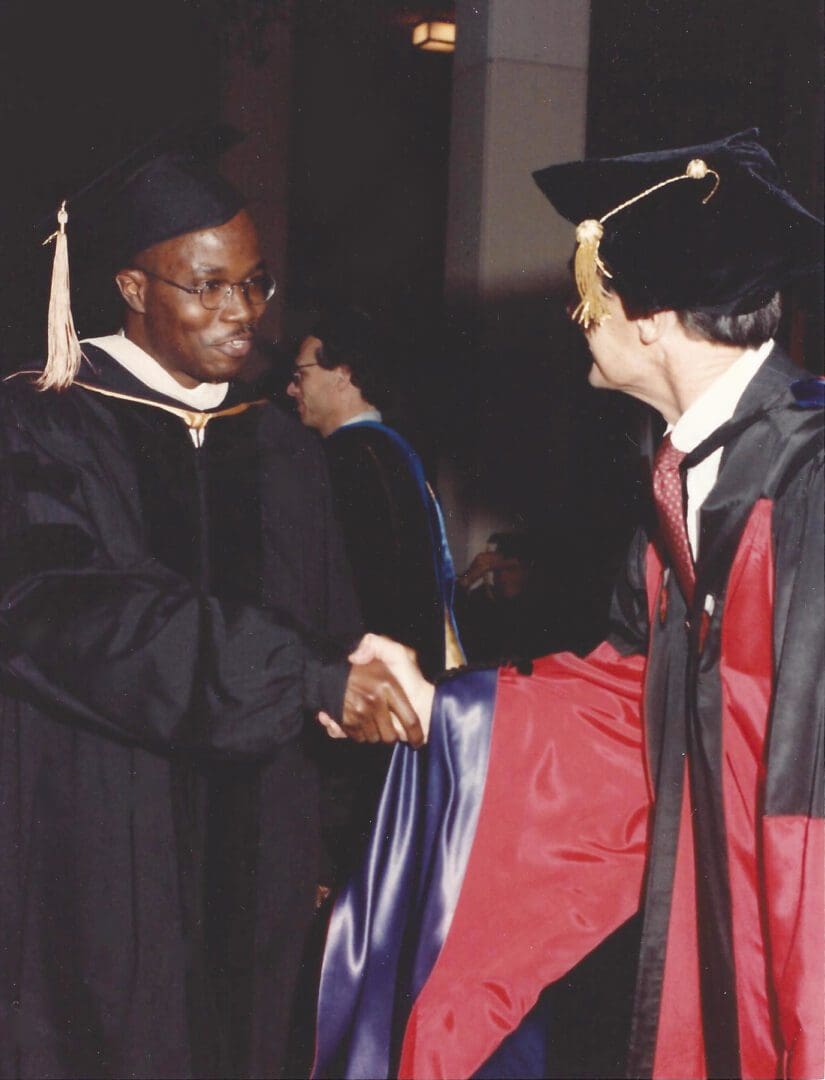 UCLA Graduation, Los Angeles, CA
Upon graduating from UCLA, Stan landed a job with Citigroup in Chicago, Illinois and subsequently moved there. He continued to build on both his college education and Peace Corps experience by traveling and working on projects with Citigroup in countries around the world: Argentina, Austria, Ecuador, France, Germany, Hong Kong, Indonesia, Poland, Singapore, and many more. Reflecting on his global experiences, Stan writes in his Expanding College Opportunity book: "As a kid growing up in Dallas, Texas, I never imagined that I would have the opportunity to travel to all these countries." With a sense of both pride and humility, Stan acknowledges that his spiritual foundation and his educational opportunities opened the world to him.
Stan Lemons' story is an American story. Through hard work, perseverance, and grit, Stan capitalized on his educational opportunities. Furthermore, through his teaching and writing about education, along with his leadership of TheSecretToWriitng.com, Stan, today, continues to help others realize their dreams.
Education Doctoral Student, Texas Southern University (TSU), Houston, TX
Book Stanley B. Lemons Today!