Have you actually seen King Richard? I have. And I'm so glad I did. I watched the movie on Saturday, April 2nd. The movie was amazing, epic even, and the acting of Will Smith (the leading male actor) was phenomenal. Yes, I acknowledge the occurrence of events that took place at the 94th Academy Awards between the Smith family and Chris Rock, as well as the subsequent public fallout that has followed. But thankfully, for me at least, I decided to watch the movie, and if you haven't already, I think you should, too.
In King Richard, the story of Venus and Serena Williams and the Williams family was beautifully portrayed on the screen…led by the artistry of Will Smith's portrayal of Richard Williams. Having watched the film, I was reminded of the inspiring journey involved with Venus and Serena Williams' tennis career, as well as their upbringing in Los Angeles' Compton neighborhood. No doubt, I learned a lot about Venus and Serena. I can now re-examine, with a new perspective, their iconic path to the top of the tennis world. But it was Will Smith's portrayal of Richard Williams that was the crown jewel of King Richard.
Richard Williams, with his detailed written plan for Venus and Serena's tennis success, was awe-inspiring. Moreover, Williams' role as a father (a Black father) and husband represented the soul of the film, bringing tears to my eyes as I watched the movie.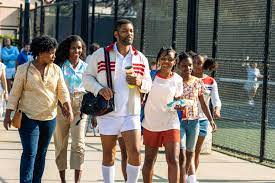 Richard was determined. He had a vision for his family and for his daughters. And despite the challenges that came and do come with being a Black man in America — economically, socially, physically, spiritually, and psychologically — Richard Williams persevered. He, and his wife, guided Venus and Serena to the pinnacle of the athletes' tennis careers, all the while navigating the social tapestry of largely white tennis clubs and leagues. I saw my father in Richard Williams. I also saw myself. Richard Williams, like so many Black fathers, wanted, on the most basic level, a better life for his children and his family.
There were many nuggets of wisdom and life lessons in King Richard. There was, for example, the love that was on full-display between and among the Williams sisters and their parents. The children in the film were pushed to excel in school and to be confident in their chosen career. There was a refreshing sense of tutelage in the film that centered on humility; that is to say, Richard Williams wanted his girls to be humble, even as they, the Williams family, climbed the socioeconomic ladder. I especially loved the way self-confidence and love for oneself were interwoven throughout the movie. One particular scene that stood out to me was when Venus, in anticipation of facing her tennis opponent Sanchez-Vicario, entered the pro stadium while dressed with white beads in her natural, braided hair – signaling to me and perhaps to the world the value of self-definition and authenticity. How could you not want YOUR child, rather, any child, to both experience and feel such self-love, confidence, and humility?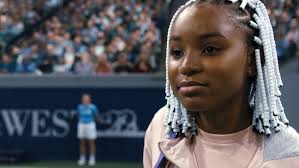 King Richard, inevitably, might be thought by some to be yet another "Hollywood Blockbuster Film," with perhaps a few additives to make the movie Hollywood worthy. Regardless, King Richard reaches new heights in film and thought, reminiscent, though quite different, from F. Scott Fitzgerald's exploration of the American Dream in his classic, The Great Gatsby.
Richard Williams and his family's story represent a family's pursuit – notably, a Black family's pursuit — of the American Dream, with all its complexity and at times its nuanced contradictions. I sincerely hope audiences — today and for years to come — will watch and discuss King Richard. Likewise, it is my hope that the brilliance of the actors in King Richard, especially the acting talent of Will Smith, will not get lost or be diminished.
———
Stanley B. Lemons
President, TheSecretToWriting.com
Texas Southern University (TSU), Doctoral Student (Education)
UCLA Anderson School of Management, M.B.A.
Amherst College, B.A. Philosophy
———-
Thank you for reading my blog post! I would greatly appreciate if you would do three things:
Please share your thoughts about my blog or King Richard or both in the comments section below
Join our mailing list here
Tell your friends and family about the work we do at TheSecretToWriting.com, and of course, watch (or re-watch) King Richard!